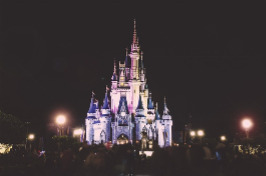 Do you think a Disney vacation is totally out of reach?  It is probably every child's dream to go to Disney World.  So what can you do to keep it from being your nightmare?  Or do you have a Disney addiction but find yourself unable to return because the prices keep going up and up?
Yes, we are aware that Disney is one of the most popular places in the world.  Disney is aware of that and they are also aware that they can charge just about anything they want and people will gladly hand it over.
So what can you do about it?
Here are a few tips on planning a Disney vacation on a budget and enjoying yourselves without breaking the bank.
Look for Discount Tickets
Daily admission to the Magic Kingdom at Disney World is $105/$99 and not much cheaper at Disneyland.  For a family of four that is a pretty big outlay.  If you are staying more than a day you can save money by buying a multiple day ticket.  If you are a member of AAA you can sometimes get discounts through them.  Many companies offer discount tickets to their employees so it would pay to check that out.  So it definitely makes sense to buy tickets ahead of time.  Check online (but not Disney's site) at places such as Undercover Tourist.  You could save a bundle.

Save on Food
Eat breakfast in your hotel room.  Bring your own snacks to the park.  You can even brown-bag it to an extent.  If you do dine in the park look for the counter service stands, they are usually cheaper.    If you are really into food and you are a big eater you might check out the Disney Dining Plan.  Do plan on splurging on at least one nice meal if you can swing as that can be part of the total experience.
Do One Park a Day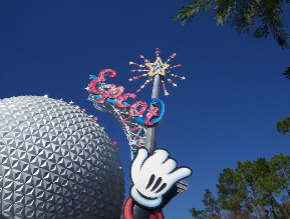 The adult 'park hopper' pass lets you visit multiple parks in one day.  However, the cost for one day is $142 compared to the $105 for a day at the Magic Kingdom but the daily prices drop for longer stays.  There is plenty in each park to stay busy for an entire day and unless you are totally sure you will need to visit multiple parks stick with the one-park pass and avoid the needless expense.
Save on Your Accommodations
Another way to save is to consider the value hotels.  If you are staying in the park there are several moderate and value resorts available.  There is even a campground.  You may think it would still be pricier to stay on site but if you consider the free transportation opportunities you can eliminate the need for a rental car (if you didn't drive).  You can also sometimes get ticket deals if you didn't buy them in advance.  But don't stay in the pricier hotels, if you are spending all day in the parks that is definitely  a waste of money.
Buy Souvenirs Ahead of Time
If you really want to save money do NOT buy the overpriced merchandise sold inside the Disney theme parks.  Shop the local stores or look online before you travel.  You can even hide them from the kids until you get there and dole them out daily.  This could also help eliminate the wanting of the high-priced merchandise that they will see at all the shops.
Do some Free Stuff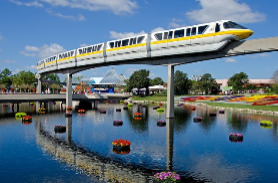 Spend one day in the hotel at the pool, sometimes kids are just as happy being able to play in the pool all day.  Take in the sights at the resorts.  Ride around on the monorail.  There are free playgrounds around the park, younger kids don't know the difference and will still have fun.
So by planning ahead and budgeting you can keep your costs as low as possible. Don't miss out on the experience of seeing your child's delight meeting the characters and seeing the sights for the first time.  And knowing you saved a bundle will be the second best part of the trip.