Can't Afford to Fly First-Class? Here are Your Best Coach Options.
If you are trying to determine the best airline, you can find many reviews and write-ups about the many amenities provided by each airline.  The problem is that many of these are based on the first-class fares and they really don't say too much about the coach offerings (with good reason).  If you have flown coach before you know that it can usually range from miserable to tolerable at best.
So given that, here is an article by USA Today which ranks the 'best' coach or economy airline offerings.  Check these out and feel free to comment if you disagree or would like to share your favorite economy airline product.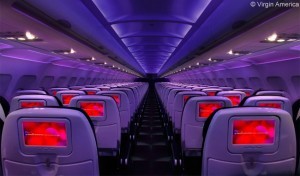 Best overall coach-class airline in North America: JetBlue

Even after the current downgrading, JetBlue's extra legroom still beats any other airline. The de facto charge for a checked bag, at $15 over the minimum fare, is less than on most other airlines. The satellite-based Wi-Fi is free, at slow speeds, and $9 an hour for enough bandwidth to stream movies. And seats in JetBlue's Airbus planes are an inch wider than on any competitors' 737s.

Most consumer-friendly coach-class airline in North America: Southwest

Its "two checked bags at no extra charge" and "no ticket-change penalty" policies make Southwest a clear winner for being nice to customers. Fortunately, at least so far, Southwest seems to have convinced Wall Street that those passenger-friendly policies gain more revenue in total customers than it would gain by imposing fees and losing customers. With other giant carriers charging checked bag fees of $25 a pop, even one checked bag gives Southwest a $50 round-trip fare advantage.

Southwest has even managed to tame the chaos of its unique no-advance-assignment boarding process: You get your boarding group and number when you check in, which you can do online starting 24 hours before departure; at the airport, you line up according to number, and get on the plane with a minimum of pushing and shoving.

Best frequent-flier program for occasional travelers, North America: Alaska Mileage Plan

At least for now, Alaska Airlines' Mileage Plan seems more generous than the big-line programs that are moving toward dollar-based earnings and rewards. You still get one mile for every mile flown, and the award chart mileage requirements are less than the effective requirements on the giant airlines. Alaska still has useful partnerships with Air France/KLM, American, British Airways, Delta, Korean, Qantas and a few others. We don't know how long Alaska will retain its current system, but it's a winner as long as today's rules remain.

If you accumulate miles or points through a credit card that allows transfers, such as American Express, the award chart for Air Canada's Aeroplan is more generous than current big lines' plans. But you get only partial mileage credit when you fly on Air Canada's lowest fares.

Coolest coach-class airline in North America: Virgin America

Yes, JetBlue beats it by the measurements, but Virgin America keeps earning great survey ratings for its flashy decor, well-trained flight attendants, top in-flight technology and general flair. Obviously, lots of travelers like what it has to offer. You might like it, too. The "Branson cool factor" also applies to Virgin Atlantic and Virgin Australia.

Best ultra-low-fare coach-class airline in North America: Allegiant

The nod for best ultra-low-fare carrier for coach-class service goes to Allegiant, not because of its base product — which is down there with Spirit in terms of sheer torture — but because it alone brings the only low-fare mainline service to dozens of communities where travelers would otherwise have to rely on regional flights to nearby hubs, with the usual hassle, wasted time and high fares of hub connections.

Allegiant's "nowhere to somewhere" business model gives travelers to/from communities as small as Hagerstown, Missoula, Owensboro, Provo, South Bend and Stockton access to non-stop flights to 16 of the country's primary leisure travel destinations, including Honolulu, Las Vegas, Myrtle Beach, Orlando and Phoenix. If you live in or near a big city, you'd never even think about Allegiant. But it's a no-brainer if you live in the sticks.

Best coach-class airline for seniors in North America: Southwest

Southwest is the only airline to offer useful senior fares for travelers 65 or over. Senior fares aren't as low as Southwest's initial lowest "Wanna Get Away" fares for travelers of any age, but when those lowest-fare buckets sell out or when they're no longer available less than a week in advance, Southwest's unrestricted senior fares are usually a lot less than any remaining any-age fares.

Best extra-legroom airline in North America: JetBlue

JetBlue, which starts out with a 1- to 3-inch advantage for regular coach, retains a similar advantage for its extra-legroom cabin. And the price, capped at $90 for a transcontinental flight, is likely to be lower than the variable prices other airlines charge.

This is a big advantage JetBlue has over Virgin America, the one airline that surveys usually place in the same class as JetBlue. On Virgin America, the extra-legroom seats, limited to bulkhead and exit rows, cost more than three times the regular-coach fare: more than $900 on a transcon, for example, compared with a base coach fare of $300. Yes, you get extras along with the legroom, but that huge fare premium is a deal breaker for someone who just wants enough space to use an e-reader or tablet comfortably.

Best coach-class airline for intercontinental flights: Japan Airlines

Japan Airlines' new-design Sky Wider economy seats provide the roomiest international economy class you can currently find. Contrary to what most other airlines are doing, JAL is sticking with eight-across seats in its 787s and nine-across in its 777s. That's one fewer seat in each row than the current standard among most other lines, and the remaining seats are almost two inches wider than competitors' seats.

The new cabins also offer an industry-leading 34-inch pitch, compared with the 30- to 32-inch pitch you find on most other intercontinental airlines. The onboard catering generally earns high marks, as well; economy travelers enjoy individual 10-inch screens, and the new 777s and 787s provide satellite-based Wi-Fi.

Best coach-class airline for trans-Atlantic flights: Turkish

Like JAL, Turkish is sticking with nine-across seating in its 777s, and the onboard service generally earns high marks. Swiss International also rises above others for catering.

Best low-fare coach-class airline for trans-Atlantic flights: Norwegian

Norwegian flies 787s from a handful of U.S. cities to Scandinavia and from Los Angeles or New York to London/Gatwick. It recently started flying from Baltimore, Boston and New York to Guadeloupe and Martinique. Fares are usually — although not always — lower than on the giant airlines, and its 787 product is on par with what the big competitors offer.

Best business-class airline with coach-class prices: La Compagnie

The giant airlines will charge you around $1,200 for a non-stop summer round-trip flight between New York and Paris in a cattle-car economy cabin. But two people paying $1,495 each can move up to an angle-flat business-class seat, with business-class cabin service, on La Compagnie, the niche French airline offering low-cost business-class service from Newark to London/Luton and Paris/DeGaulle. La Compagnie's current fare is almost $1,000 less than the premium economy fares on Open Skies or Air France.

The price gap between regular economy and La Compagnie isn't always this small. But whenever it is, you sure feel better when you arrive in London or Paris after an overnight in business class than in economy. It's worth considering.

Best coach-class airplane for short flights: Embraer

The Embraer 170/175/190/195 series might seem a surprise call, but seats are at least as wide as on A320 series, and they're all two-by-two, with no middles. You never feel bottled up the way those 737s and A320s make you feel. And while it's not technically an airline, this aircraft makes the list because you should look for it when searching for any short-haul coach-class flight.
Read the original article: The best coach-class airlines in the world