Fun Things to do in Florida With the Kids – LEGOLAND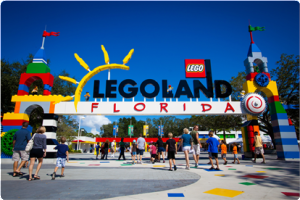 If you are planning a vacation in Florida with the kids you are probably either thinking about Disney or the beach.  But I want to mention another newer fun place that I am sure you have heard of: LEGOLAND.
Maybe you have already thought about LEGOLAND (and maybe you saw my earlier post where I gave you a video about it) and were wondering what age kids would enjoy this park.  Well, the LEGO group created this theme park with children in mind.  They seem to have specifically targeted the 2 to 12 age group.  So there will be a lot of rides, shows, restaurants and large gardens for them to explore.  However, this doesn't mean you can't bring an older child along.  There are several offerings available for each age group that you might want to check before making your plans.
For the youngest crowd –  LEGOLAND has Duplo Village.  Here the toddlers can put out fires like a fireman, fly a plane and ride a train, and climb and slide all over the Duplo Farm.  In addition, there is an indoor play area and a water playground outside.  There is also Fun Town which offers a double-decker carousel.
If you have tweeners – LEGOLAND Florida has something called Heartlake City that is based on LEGO friends.  There are interactive shows to enjoy, a place called Stephanie's Newsroom (which is great for photos), Mia's Riding Adventure which is a circular-motion ride, and Heartlake Mall where, naturally, you can purchase all sorts of LEGO products.  They may also enjoy the LEGO World of Chima, which is presented by Cartoon Network.  It features a water ride and a 4D movie experience.
For the teenagers – LEGOLAND may or may not be for them, but all is not lost.  There is a water park which has features like water slides, wave pools, and lazy rivers to float down.  They also have cabanas available for rental.
Check out LEGOLAND Discounts!
So if you are looking for fun things to do in Florida with the kids don't be afraid to bring the whole family to LEGOLAND.  It is a great way to spend a day or two and you are still close to beaches and other large attractions in the state.  LEGOLAND also has it's own hotel and you can get early entrance to the park by staying there.
This article originally appeared in family vacation critic.