Theme Parks in the Southeast – Georgia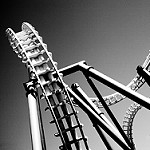 The southeastern United States has a rich heritage of theme parks in practically every state. Found in these parks are some of the best roller coasters in the world, water parks where you can get as wet as you please, and parks where families can just enjoy a day together.
Today we begin our tour of theme parks in the Southeast by looking at four amusement parks in the state of Georgia.  In case you are driving down from the north, I have listed these starting from north with the first one being near the Tennessee border to the last one being near the Florida border as they are all along Interstate 75. I will leave it to the reader to decide which one are best.  I am sure you will find something that will provide days of thrills and adventures for your whole family.
Lake Winnepesaukah
This is a traditional amusement park that has lots of Southern charm.  It is located on the border of Georgia and Tennessee.  It is just a few miles from Chattanooga and is usually referred to as being in that city, though it is technically in Georgia.
Lake Winnepesaukah or Lake Winnie surrounds the lake from which it gets its name.  This is an old park, in fact it has been in operation since 1925.  Families will enjoy it because of it large selection of family friendly rides.  You will find the classic amusement rides in the park as well as some thrill rides which have been added more recently.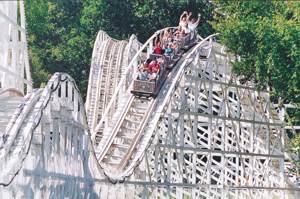 Attractions include the Cannon Ball wooden coaster, a boat ride (with a drop) which has been there since 1926 and a 1916 PTC antique carousel.  One of the latest attractions is a 14-story freefall ride.  There are also bumper cars, kiddie coasters, train rides as well as some of the standard attractions.
Prices for 2015 are $33.95 adults one day pass, $16.95 children (ages 1 and 2) and seniors (55 and older).  The price includes unlimited rides and access to both Lake Winnie and the water park.
Six Flags Over Georgia



Six Flags is the largest regional theme park in the Southeast, featuring 11 heart-pounding coasters and the all-new Hurricane Harbor water park which is included with park admission.  It is located on 230 acres just west of Atlanta.  The park has over 40 rides and attractions with coasters such as Goliath, Superman, Ultimate Flight, Batman The Ride, The Georgia Cyclone and a stand-up freefall tower called Acrophobia.  There are also a ton of things to do with the smaller kids, there are shows to see and they also have over 100 acres of landscaped gardens.
So if you are looking for the extreme roller coaster thrills or want to take the little ones, you will find something at Six Flags.  The great shows and great rides have kept four generations of families returning year after year to this world-class theme park.
Prices for 2015 are $61.99 for adults, $41.99 for children under 48″, children 2 and under are free.
Save money on the 5 best attractions in Atlanta with Atlanta CityPASS
Fun Junction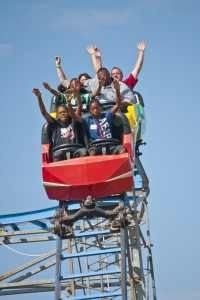 Fun Junction (formerly known as Dixieland Fun Park) is a smaller amusement park located in Fayetteville just south of Atlanta.  It was established in 1990 and was originally just a fun center but it has grown to be the third largest amusement park in Georgia.
According to their website, Fun Junction offers over two dozen family attractions, 3 miniature golf courses and go kart tracks,  The major rides are the Screaming Eagle coaster, the Drop Zone, and the Giant Swing.
This park is different from the others as you purchase individual tickets for rides and attractions.  Tickets sell for $1 each and rides can cost anywhere from 2 to 8 tickets each.
There is a $5 parking fee but you do get 5 ride tickets with your parking pass.
Wild Adventures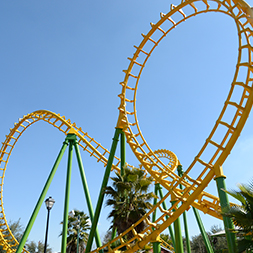 Just before you leave the state, located in a more rural area, you will find Wild Adventures.  Wild Adventures is near Valdosta, Georgia and just a few miles from the Florida line.  However, don't let the rural setting fool you,  This park which began in 1996 as a small petting zoo has grown to become on of the Top 50 theme parks in North America.
Wild Adventures has one of the largest collection of rides of any amusement park in the South.  There are eight roller coasters and seven water rides,  It is home to hundreds of exotic animals and there are live concerts and seasonal festivals.  The Splash Island Water Park is included and it has attractions such as a 20,000 square-foot wave pool, lazy river, speed slides, tube slides, children's play area and the Wahee Cyclone,a five-story multiple rider tube slide.
Daily Ticket prices for 2015 are $46 for adults and $41 for children ages 3-9 and guests 55 years of age or older.